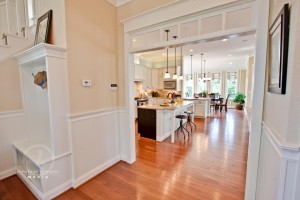 Be it a dilapidated 'diamond in the rough' or a home in need of a 'face lift', reviving a tired-looking home is usually much easier than you think. And by the way, your potentially largest single investment deserves it.
Renovations don't always have to include creating additional space.  The fact is, more and more living rooms are being used less and less.  And, while dining rooms definitely have their purpose, we're finding that eating just off from the kitchen has become much more prevalent.
Don't allow these spaces to become ghost towns.  Install a fireplace and create a den; add built-in cabinetry and create a library.  Or knock down a wall and increase the size and function of the adjoining space.  The home was originally designed to accommodate the way we once lived…we've changed.